Workshop Keynote 'Design, Material Technology and Questions of Intellectual Ownership and Collective Copyrights'
On the 23rd and 24th of June 2022, the workshop »Design, Material Technology and Questions of Intellectual Ownership and Collective Copyrights« took place at the Museum am Rothenbaum - Kulturen und Künste der Welt (MARKK) in Hamburg. The workshop was dedicated to the issues of intellectual ownership and collective copyrights, with a special focus on working with collections in ethnographic and world cultures museums. These museums share similar aspects of collection development with museums in other fields, but the contexts of origin, the practices of collection acquisition and their documentation often pose specific challenges: works from colonial, as well as secret and sacred contexts, require sensitive approaches and appropriate solutions.
Since many questions concerning the use of the collections for interested parties, communities of origins, artists and scientists are linked to their indexing and accessibility in digital media, Brigitte Vézina was invited as an expert on the ethical and legal dimensions of open access to collections.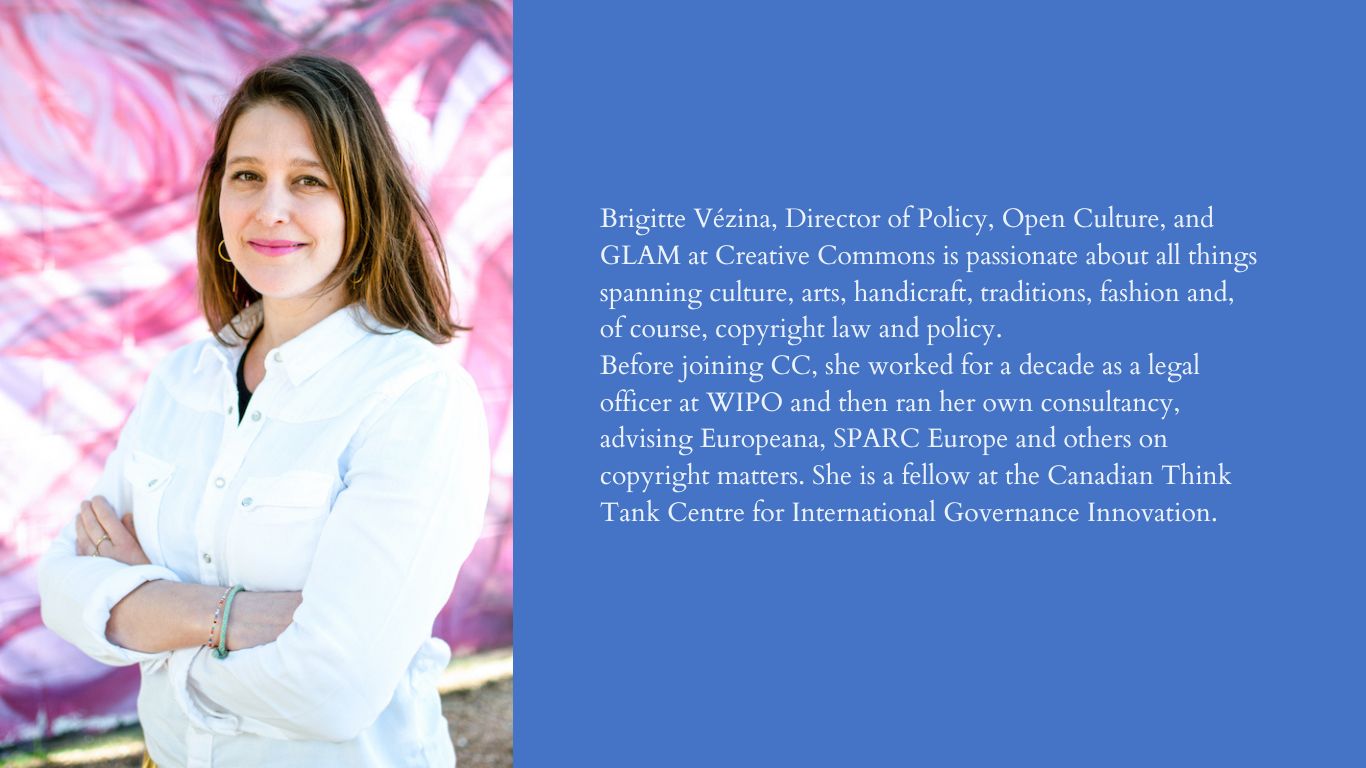 As a prelude and introduction to the topic, Vézina gave her public lecture on the subject titled: "Towards better sharing of cultural heritage: exploring the legal and ethical dimensions of open access". With her presentation, she set the foundation for the workshop sessions, which followed. By presenting the philosophy of The NGO Creative Commons (CC), Vézina outlined the opportunities offered to museums through their "Open Culture Program". CC was founded in 2001 and is now the leading global infrastructure for open culture, having freed almost two billion works of their copyrights and restricted access. The program's' main goal is to promote open access to cultural heritage and support cultural heritage institutions (such as galleries, libraries, archives and museums or abbreviated to "GLAMs") in achieving their mission of preserving and providing public access to their collections. Brigitte Vézina introduced the concept of Better Sharing:
"Notions of respect, consideration and care that are at the center of museums' duty to share. Better Sharing aims to make collections as openly accessible as possible. This advances universal knowledge, innovation, and collaboration: It is aiming for social solidarity while pushing for diversity."
These tasks are especially relevant in today's diverse societies. A future function of museums should be to serve a new kind of knowledge production through low-threshold accessibility to their collections. But why should museums participate in the Open Culture Program?
For Brigitte Vézina, this is clearly expressed in CC's strategy:

"First, open sharing advances universal access to knowledge and culture in furtherance of fundamental human rights. Second, open sharing fosters creativity, innovation and collaboration, thereby enabling progress in addressing global challenges, especially when it facilitates connections between people with diverse perspectives. Lastly, open sharing is inherently an act of social solidarity, reflecting a belief that we all have a stake in our collective body of creative and intellectual wealth."
The CC licenses and tools offer powerful means for museums to provide generous access to digitized items in their collections. At the same time, it's important to highlight that they were never meant to be applied to content that is not meant to be shared broadly. They are generally a means to empower individual creators who, on their own volition, decide to share more broadly with the wider public. This fine distinction is particularly relevant for ethnographic collections. Brigitte Vézina explained why, as she closed the presentation with this strong statement:
"Cultural heritage institutions are in a pivotal space where guardians and users from the public meet around the collections. They thus have a unique role in building a more equitable, diverse, and inclusive world by promoting Better Sharing of cultural heritage as part of a conscientious, thoughtful, intentional, and respectful approach. One way forward would be the development of mechanisms for joint curation of collections built on dialogue, trust and understanding."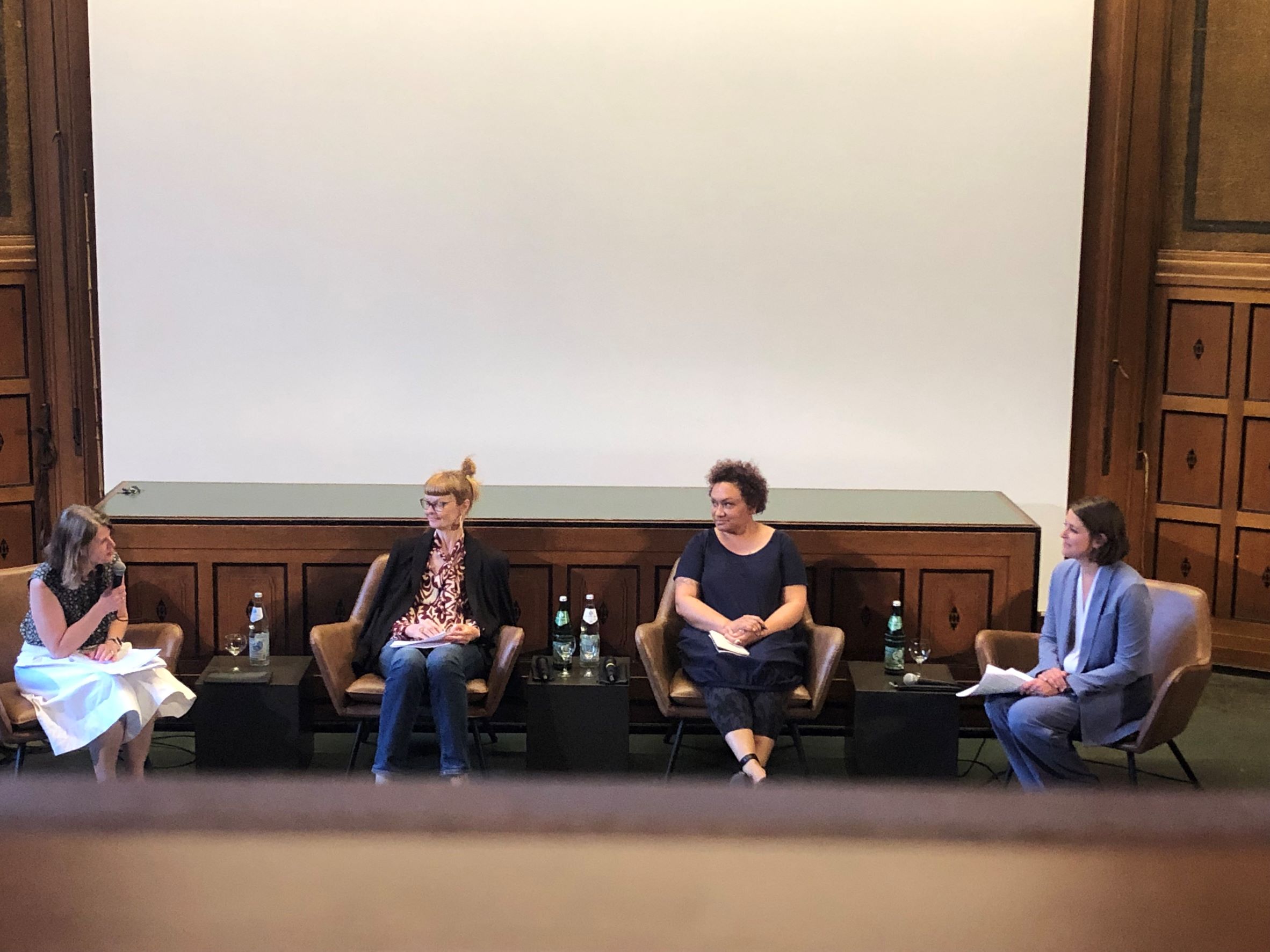 Director of the MARKK, Prof. Dr. Barbara Plankensteiner, then opened the panel discussion. Dr. Erna Lilje from the Research Center for Material Culture (RCMC), Leiden, and Dr. Astrid Mania, representing the Hochschule für Bildende Künste (HFBK) in Hamburg offered reflections from their professional background by referring to central topics of the lecture. In addition to the ethical concerns of shaping access and practicalities of sharing, the discussion focused on the relationship between the physical and the digital products, as well as the artistic and creative transformation of cultural assets.
Text was edited by Lara Selin Ertener

Read about the Workshop Sessions here.