'TAKING CARE & Re|Creating Kinship in the Ethnographic Museum in Europe' Conference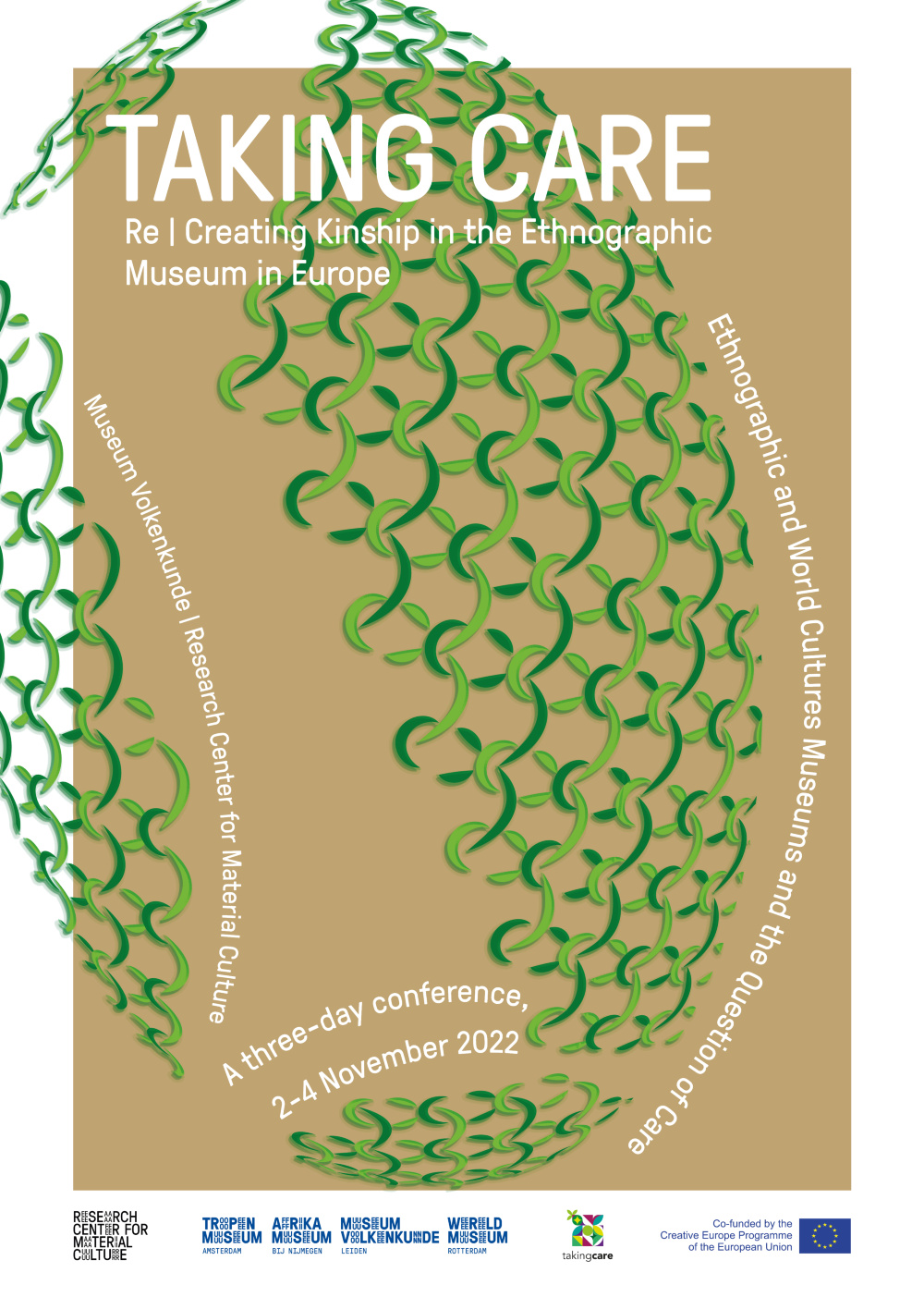 CONFERENCE | 2 - 4 November | RCMC, Leiden
Concept and critical inquiries
Under the aegis of the directors of thirteen ethnographic museums throughout Europe, the Research Center of Material Culture at the National Museum of Worldcultures has been involved in an ongoing Creative Europe co-funded project named TAKING CARE. Taking Care's intellectual inquiry is to rethink the histories, practices and role of these museums, trying to, as it were, refashion them towards a different kind of ethics of practice in and for the present. As part of this process we have been thinking through questions of decolonisation and of care, mindful of course of the complexities that are entangled with both concepts. While our kinds of museums, at least in their European tenure, have often restricted themselves to narrow conceptions of the ethnographic and therefore of culture, we have been trying to push beyond these practices to think the human and more than human worlds together, and the role that the museum can play in addressing the current challenges of our shared world. Our hope is to challenge narrow use and conception of the Anthropocene, showing the more complex entanglement with our current planetary crisis with questions of colonialism and racism. The project also asks the questions:
What could a caring and careful museum could look like?
How might the recent theoretical explorations in thinking (radical) care and kinship, but also questions of climate justice, help us to inaugurate a different kind of museum?
We have been interested in thinking whether care as an ethic and practice, may help us to push beyond object-oriented preservationist thinking, towards a museum guided by an urgency, and advocacy for better more just and equitable futures for the human and more than human life. We have also been interested in the ways ethnographic museums can help us think otherwise about questions of extinction. The project takes questions of care—and/as—kinship, with kinship-as-care as a fulcrum around which the conversation might pivot. Our intention with our programming is to create a space for collaborative speculation, to think together, about the museum, the world, and possible more just and equitable futures.
Whichever form our event or intervention takes at the National Museum of World Cultures, our hope is to engage the following inquiries:
How might we think the museum's histories and practices of collecting and displaying in rapport with colonialism's destructive and extractive economies (i.e. mining, minerality, exploitation of the earth's resources, both human and non-human)?
What might such a turn do for museums as they become sites for fashioning more sustainable planetary futures?
If indeed we take the objects of our collection as sources of knowledge, as treasures that hint to how we might better care for our planet, then how might we engage such knowledge without reproducing earlier forms of violence and extraction?
How might we better center, dialogue with, and present the more reciprocal relationships between and among object, person, and indigenous and syncretic thought systems in such a way so as to avoid constantly reproducing Michel-Rolph Trouillot's now well-known adage of 'the Savage slot,' so ingrained in European approaches to those who are not-understood-as-European?
How do we care for knowledge holders, makers, artists, creators and craftspeoples, as we also preserve objects?
How do we understand 'the object' as an agent, a full member of the "intersubjective matrix" that binds inter-species life and cultures to each other? Souleymane Bachir Diagne offers the term "intersubjective matrix" (September 2021) as one better apt to denote the lives and memories contained in what our museums refer to as "the object"? (See the end of this conversation, when Diagne discusses this question.)
What does it mean to think about the condition in which these objects have been made, thinking perhaps about uneven distributions of labor and compensation from Marxian, neo-Marxian, and non-Marxian perspectives?
Read more on the object lessons from the previous 'Caring Matters' project conference here.

Programme

Location: Grote Zaal, Museum Volkenkunde, Steenstraat 1, Leiden

Costs: Attendance is free of charge but does not include lunch. You can buy lunch at the museum café or go to one of Leiden's numerous cafés and supermarkets at walking distance from the museum.
Accessibility: Entry to the museum buildings is possible via either stairs or an elevator/ramp. Within the museum building there is another elevator, which allows you to access the basement and the first floor. On these two floors you can find female, male and accessible toilets, in the basement there is also a gender neutral toilet. Lockers and quiet spaces are available. Please refrain from wearing strong scents, as it may disturb other attendees. We provide face masks and recommend to do a Covid selftest before coming to Leiden. If you have any further specific needs, please contact us at takingcarefinalconf@wereldculturen.nl.
Register for the conference here

Wednesday, November 2
09:00 Registration
10:00 Opening by Claudia Augustat & Wayne Modest
10:30 Session I: Multispecies Kinship and Earth Archives
Moderator: Wayne Modest
Kathryn Yusoff, "Museum of NonNatural History"
Zheng Bo, "Wanwu Council: More-Than-Human Art Museums"
Amie Lindiwe Hanan Soudien, "Ancestors, 'Shadow Families' and Myth: Revisiting Cape Town's First Slave-Owning Household"
Mayanthi Fernando (online), "Toward a Negative Zoology: Not-Knowing for a Post-Anthropocene Future"
12:45 Lunch
14:00 Session II: Care and/as Violence
Moderator: Claudia Augustat
Audra Mitchell, "Holding on/letting go: Fleeing the Modern Museum"
Daniela Ortiz (online), "Resistances to plunder. Anticolonial strategies against cultural domination"
Elia Nurvista, "Plantation over Plantation"
Juno Salazar Parreñas, "When does care become cruel?"
16:00 Coffee break
16:30 Session III: Going Native – Dutch Constructions of the Pacific
With Yuki Kihara, Michiel Teijgeler, Mirte Hazes & Harry Lodder
Moderator: Wonu Veys
18:00 Visit of installation Going Native
Thursday, November 3
9:30 Registration
10:00 Session IV: Care at the Borderline
Moderator: Wayne Modest
Miriam Ticktin, "Radical Care at the Border: Dismantling and Rebuilding Political Worlds"
Ian Baucom, "The Future Claimant's Representative: 'What is the museum for?'"
Aram Lee, "Can colonial objects become ecological participants?"
Itandehui Jansen, "Filmmaking, Eco-narratives and Sustainable Practices"
12:15 Lunch
13:30 Break-out sessions
Carine Zaayman, "Old leaves, other tales?"
Audra Mitchell, "Critical care package (a creative workshop)"
Zinemaking Workshop by Kendal Beynon & Camillo Garcia
"Museums, Advocacy & Planetary Care: A workshop with Tropenmuseum Junior", speakers TBA
15:00 Coffee break
15:30 Session V: Gerbrands Lecture – Jason De León
"Soldiers and Kings: Inside the World of Human Smuggling"
Moderator: Mark Westmoreland
Conversation with Miriam Ticktin
17:30 Drinks
Friday, November 4
10:00 Registration
10:30 Session VI: Object Lessons by TAKING CARE museum partners
Moderator: Ashley Coutu
11:30 Coffee break
12:00 Session VII: The Unfinished Conversation – Multispecies Care and the World Cultures Museum
Moderator: Wayne Modest
13:30 Lunch
14:30 Visit of exhibitions, led by curators of the National Museum of World Cultures
Please register for the conference here.