PURRUNGUPARI•MUPURRA•PUJINGA• NGINI, PALINARI, AMINTYA // •BARK•SKIN•VOICE• PAST, PRESENT, FUTURE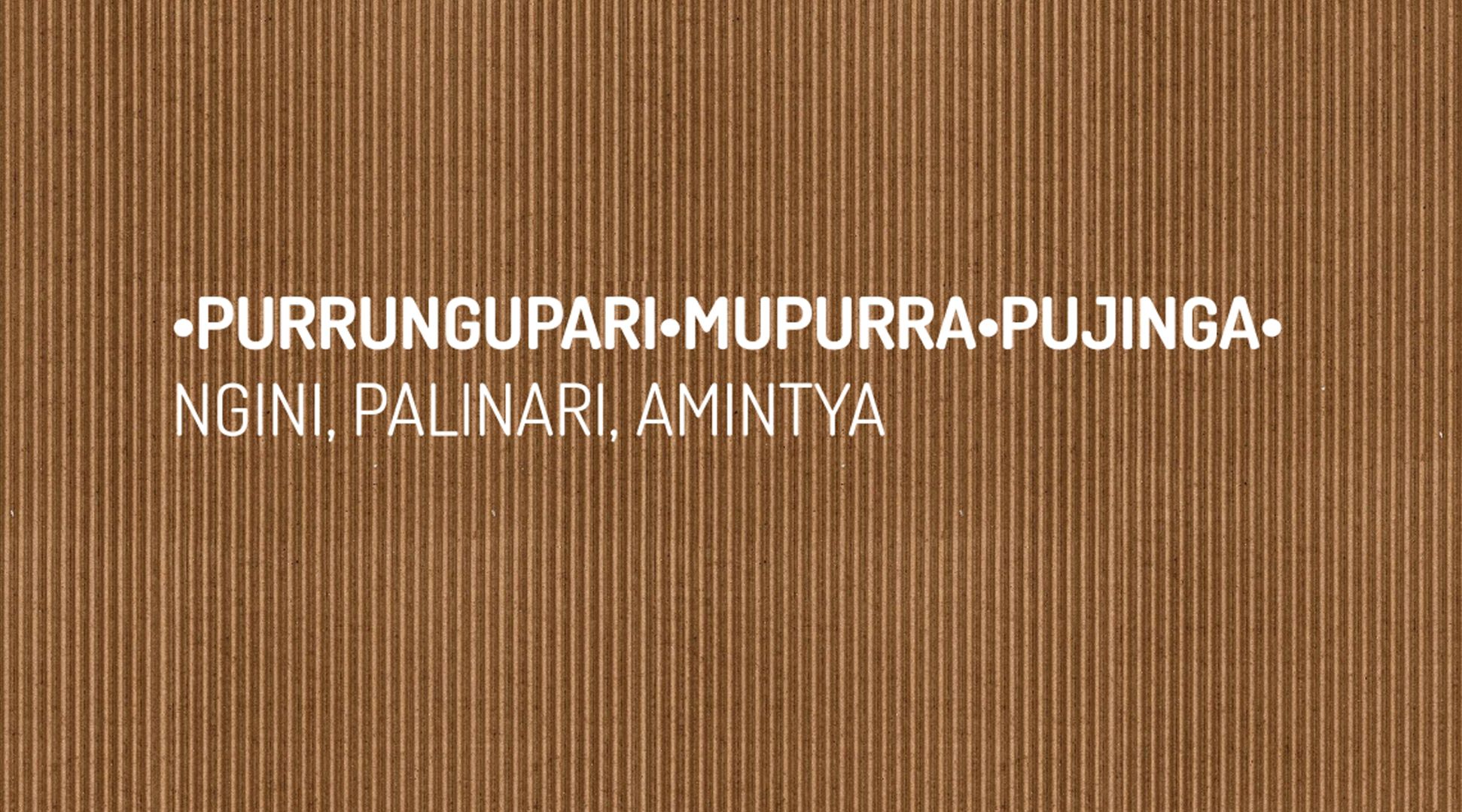 Museu Etnològic i de Cultures del Món, Barcelona
Montcada Venue, 04 March 2022 – 05 June 2022
From 3 March to 5 June 2022, the Montcada Venue of the Museu Etnològic i de Cultures del Món de Barcelona is home to an experimental exhibition within the framework of this European project, which the museum is a part of.
The result of an artistic residency at the museum by the artist Narelle Jubelin from September to December 2020, and as part of the same project, the exhibition has been curated by Jubelin herself and the Tiwi artist Pedro Wonaeamirri (from artist to artist). The starting point for the exhibition is the artistic result of this residency, in a creative dialogue and cross-linked contemporary discourse about the collections from the Tiwi Islands conserved at the museum and the contemporary production of the community of origin. The key point for the project: dialogue.
Words by exhibition's curators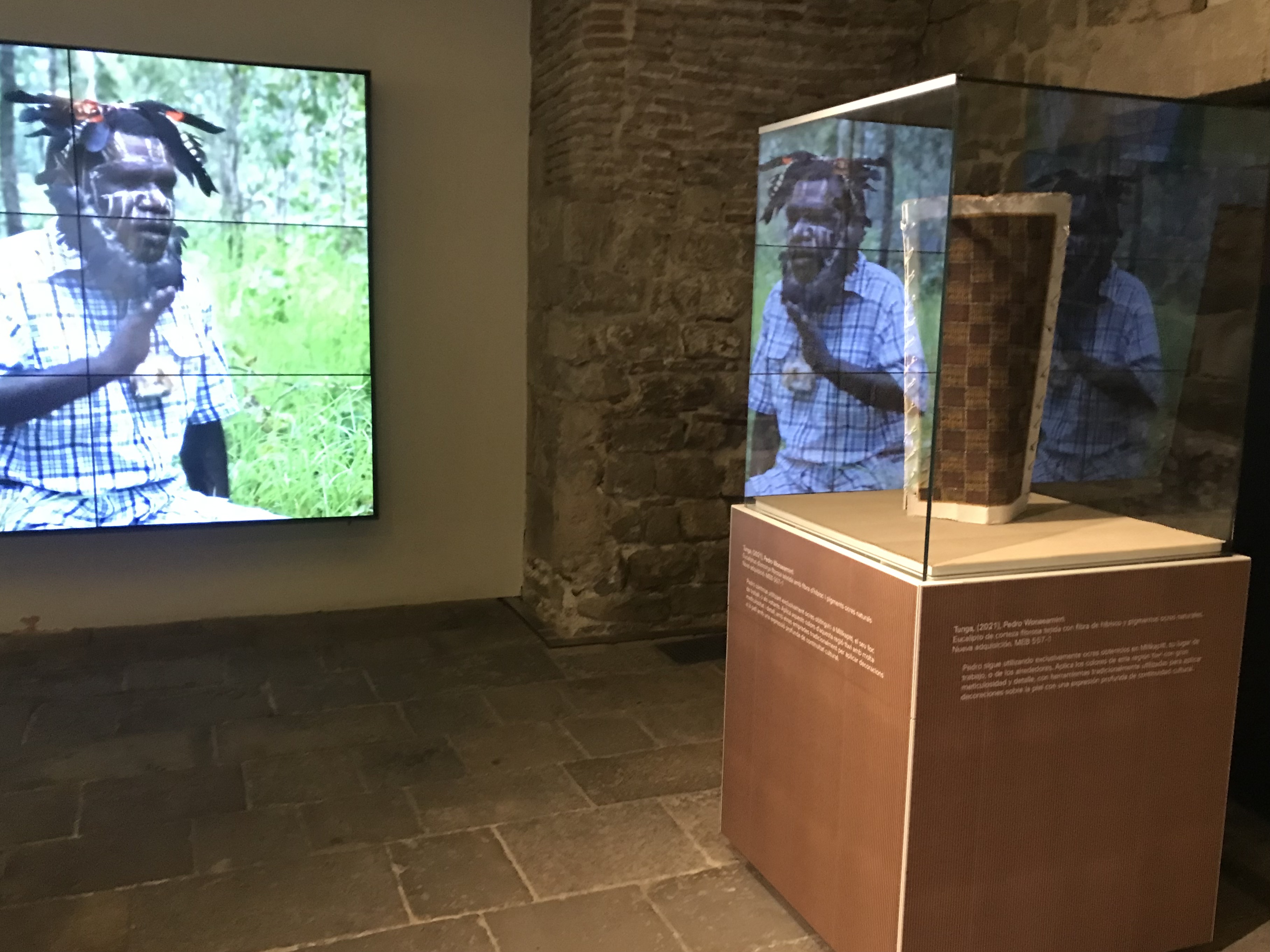 On the screen: Pedro Woneamirri, Jilarti, 2021. Single channel video. Jilamara Arts and Crafts Association, Milikapiti, Melville Island.
Yoi ceremonial song and dance are central to Tiwi Islands culture in Northern Australia, practices being passed down through generations. The gestures, calls, ceremonial objects and jilamara (body paint design) that comprise these traditions make up one of the strongest living creative practices that crosses from live performance into object making and back again in constant renewal.
In the showcase: Pedro Woneamirri, Tunga, 2021. Museu Etnològic i de Cultures del Món. MEB 557-1. New acquisition.
Is it sufficient to connect the hitherto conserved works of a collection, make a critical review, show recent work from these communities of origin, even support their innovation with the purchase of new acquisitions? Could this be a new form of relationship, dialogue and exchange? Can we get closer to some new premises of "Taking Care" when we are invited inside the museum?
"•PURRUNGUPARI•MUPURRA•PUJINGA• NGINI, PALINARI, AMINTYA//•BARK•SKIN•VOICE• PAST, PRESENT, FUTURE" was co-curated, artist to artist, by Pedro Wonaeamirri and Narelle Jubelin, in the context of Museu Etnològic i de Cultures del Món, Barcelona, member of the European project "TAKING CARE -Ethnographic and World Cultures Museums as Spaces of Care" (2019-2023).
"Tiwi people get their country from their father and also their dance – their dreaming from their father... My dance is the Brolga, the dance also has a song that also connects to the land. Your country, your dance."
Pedro Wonaeamirri.