Blog post by Kanika Gupta, TAKING CARE activist in residence at Slovene Ethnographic Museum
The image of goddess Lakshmi and her consort Ganesha is imperative during the celebration of the festival of Diwali in north of India. Lakshmi is the goddess of fertility and wealth, and her oldest representations on coins in ancient India can be dated back to earlier than 2nd century BC. In stone sculptures, she is seen at the stupa of Bharhut, a Buddhist funerary structure, dated to 2nd century BC, in the form of Gajalakshmi, that is Lakshmi along with elephants on either side of her, pouring water over her body. In later Indian sculpture, Lakshmi is seen as the consort of God Vishnu caressing his feet while he lays in his eternal sleep, in a posture called Sheshashayi Vishnu. In late 19th century, the Indian artist Raja Ravi Varma reinvented Brahmanical deities visually by painting them in European style and adopting the oil on canvas tradition. He then went on to establish his printing press, thus producing this imagery in large numbers and making it affordable for most people. The print of goddess Lakshmi with and without Ganesha as her consort became extremely popular across India. Lakshmi is especially invoked on the occasion of Diwali as a bestower of wealth, and prints of this deity made in the Ravi Varma tradition have been placed under worship in many Indian Hindu households. Many such prints were also collected by the Slovene missionaries who visited Kolkata in the early 20th century and are now with the Slovene Ethnographic Museum in Ljubljana.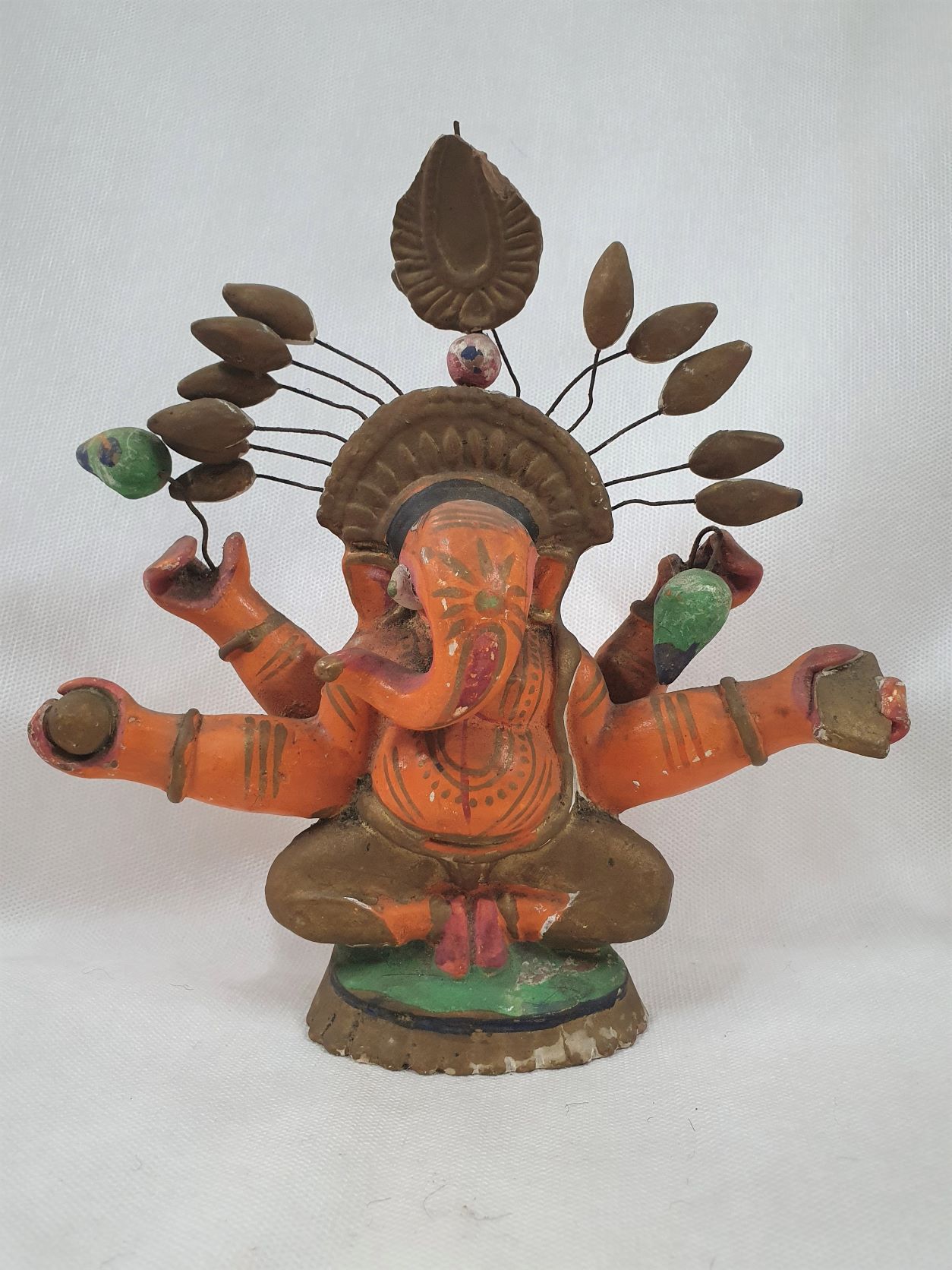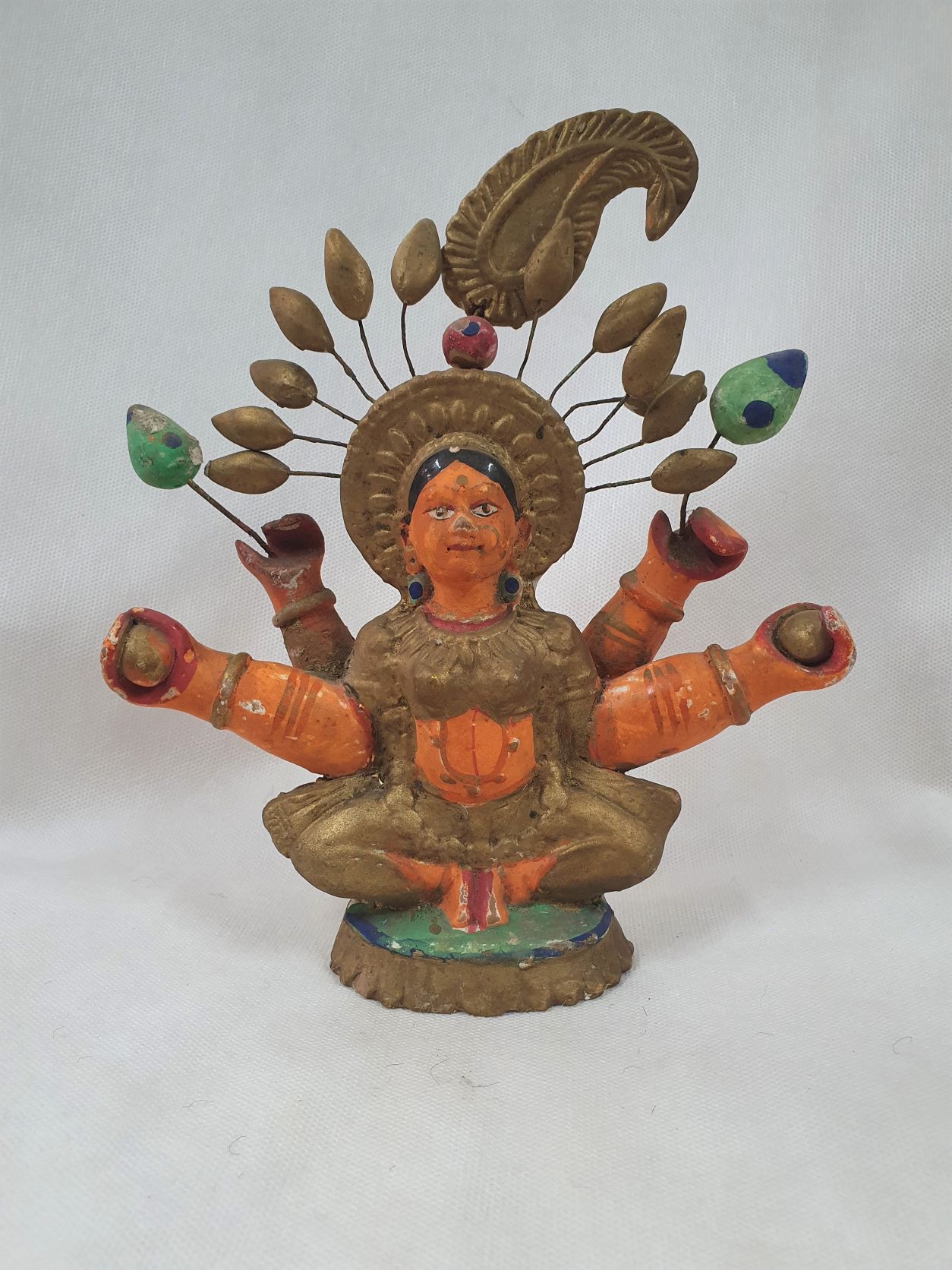 The story of god Ganesha is slightly different. In stone sculptures this deity is represented popularly in the Indian tradition from 4/5th century AD. In Shaivite folklore, he is the son of Parvati, Shiva's wife. In later tradition, he is represented as Lakshmi's consort. Ganesha is known as vighnaharta (in Sanskrit), which means the remover of hurdles, and is therefore, propitiated on the occasion of Diwali in particular. There are endless myths related to Lakshmi and Ganesha with different versions popular across the Indian subcontinent.
However, it is interesting to note that this particular pair of Lakshmi and Ganesha come from the terracotta tradition of sculpture making in India. Clay sculptural tradition in India is as old as the Indus Valley culture and has continued since without a hiatus. While the Ravi Varma style of imagery was gaining immense popularity in the early 20th century in India, the terracotta tradition does get inspired by it and yet retains an earthy element, unique to this medium. The Lakshmi in this pair does not quite conform to the typical costume style of Ravi Varma, with its extensive drapery and covering yet revealing of the female body in a certain way. She is not conscious of her body in the way Ravi Varma females are. She sits in a posture rooted in the Indian tradition, one that can also be seen in an Indus Valley seal, the one popularly known as the Pashupati seal. She is a powerful deity in this image with a strong ritualistic presence and purpose. Her consort Ganesha sits in the same posture, both of them have four arms in this pair and an elaborate decorative headgear.
These terracotta figurines were especially created for rituals during Diwali festival, and after the occasion, just as in the case of the image of goddess Durga during Durga puja festival in Bengal, and Ganesha Chaturthi festival in western India, they were submerged in the holy waters of a river. It is possible that this pair has survived because like hundreds of prints, it was also bought by the Slovene missionaries in India and thus has ended up now in the Slovene Ethnographic Museum in Ljubljana.