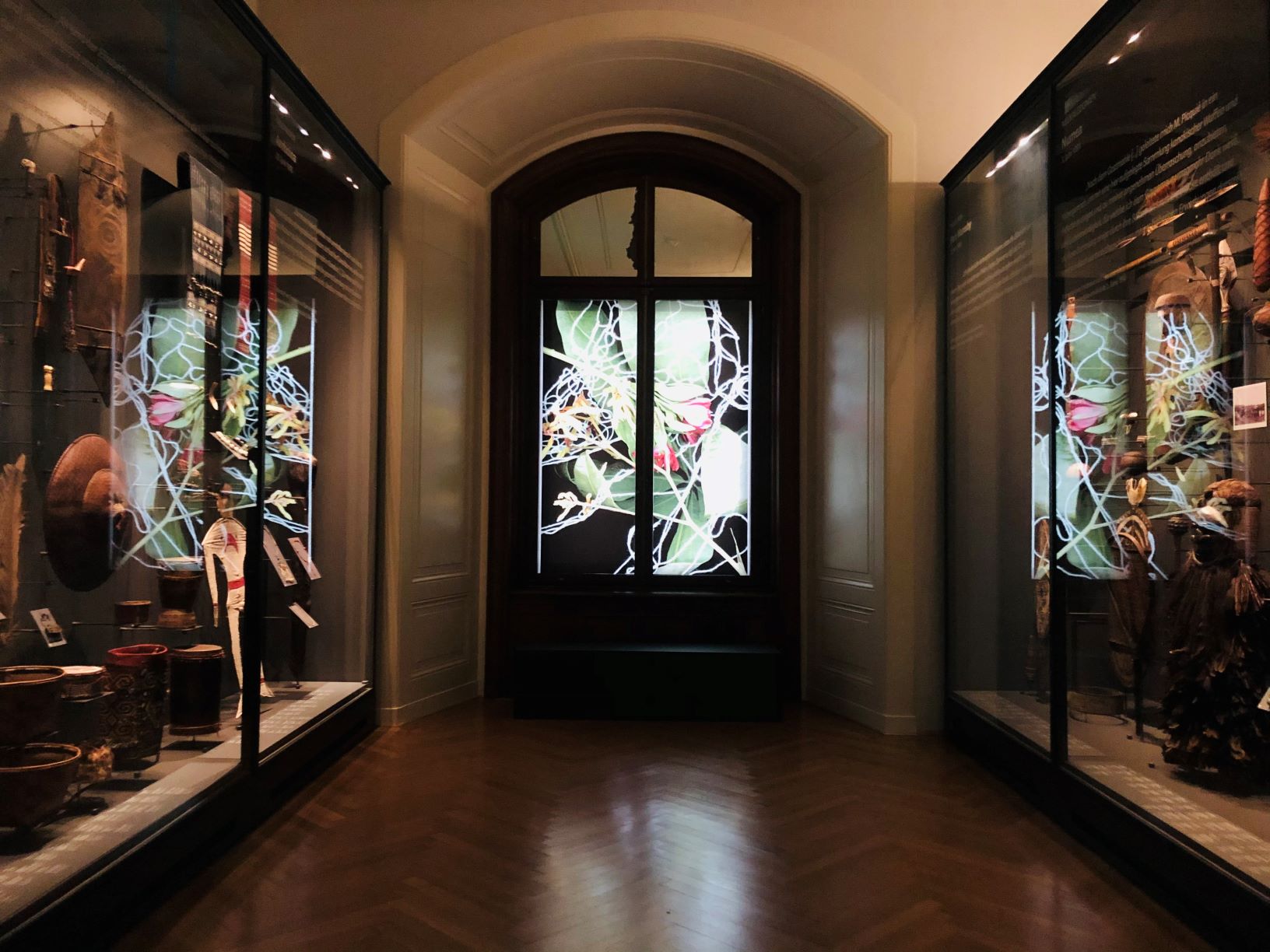 The postcolonial view is the view of empathy and the desire to understand; (…) The postcolonial view recognizes and recognizes hybrid cultures and identities. - Paul Michael Lützeler
Text by Lynn Busch

About the exhibition
This recognition of the hybrid as well as the development of colonial cultures and history is the theme of T. Lauw in Dark Pairing by interweaving plants in a fine-meshed network. Images of cultural inscription and overlay arise precisely from the impossibility of unraveling the materials. The net is no longer just a symbol of capture, but becomes the carrier of the other. At the same time, it is precisely through this function of the wing that it maintains its dominant position: the network not only determines the formation and arrangement of the individual flowers, it also decides what is in front and behind, an outside and an inside: it becomes a border location. In Dark Pairing this obvious upper hand disappears in favor of a fine interweaving of the materials. Instead of wire, we are now dealing with knotted yarn, which forms a common network with the plants. Despite the poetic-visual language, the brutality of colonial rule becomes the red line of T. Lauw's works.
By using exotic plants, the striving for rule by colonial powers over indigenous cultures is critically examined. The fascination of the exotic has a long history and developed from an extremely hierarchical understanding of the "foreign" of other continents. Collecting "exotic" plants was part of the process of colonization and can be interpreted as an act of cultural appropriation (of the exotic). By building up the works, T. Lauw formulates the appropriation and imposition of the cultural as a processual development, the traces and memories of which form identities to this day and beyond.
The artistic presentation is part of the TAKING CARE Project.
Artist Talk

In the occasion of the opening of the installation the virtual artist talk with Wie-yi T. Lauw and Christian Bräuchler (Head of the BotanyDepartment at the Naturalhistory Museum, Vienna), moderated by our project lead Claudia Augustat, explored the creative process, related themes, implications and more behind the art works.

Rewatch (in German) here.

About the artist
Wie-yi T. Lauw (b. 1983, Vienna, Austria) lives and works in Berlin. She graduated with an M.A. from the Kunsthochschule Berlin Weißensee in 2012.
Wie-yi T. Lauw's work is a poetic testimony to a personal, yet generally valid, occupation with existential topics: What are the anchors of one's (multicultural) history? What role do memories play as identity-creating structures? What do terms such as cultural heritage and identity mean in the age of global and digital?
Wie-yi T. Lauw questions the absolute and unambiguous - in favor of an open and never completed process. It breaks and contradicts with contrary materials, shows the ambivalence of (in) visibility and robs things of their original functions by using photography, sculptures and installations. In this way she creates the temporal and changeable - the relentless >> becoming << - the only constant of her art.
For more info on the aritist click here.