"The pot that shouldn't exist"

Excerpts from Niall Martin's lecture "Endangerment and Care: "Silenced futurities and the frequencies of extinction: Putting noise in the museum."
Quechan canteen: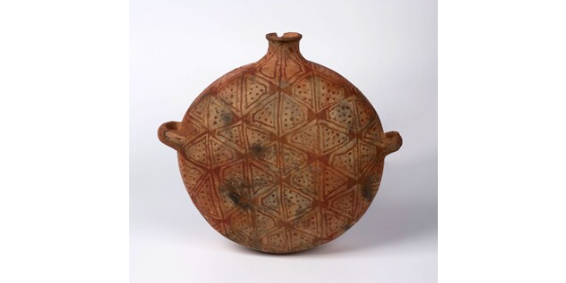 Why shouldn't this pot exist?

Originally those ceramics were cremated with their owners
This specific object is entirely unfit for it's purpose, as it was unfired and would therefore leak if it contained any liquid, as well as the handles being too fragile to support the pot's weight

The form was modelled after models from south-western peoples, because the Quechan themselves never used canteens
The paintings on the object are not of a spiritual origin
The object can be seen as a protagonist for extinction:

It was actifically created for tourists and literally turned inside out so it caught the gaze of passing railway travels

Temporality displaced and yet preserved by the discourse of extinction!
For more on this object and its history here and rewatch this panel here.