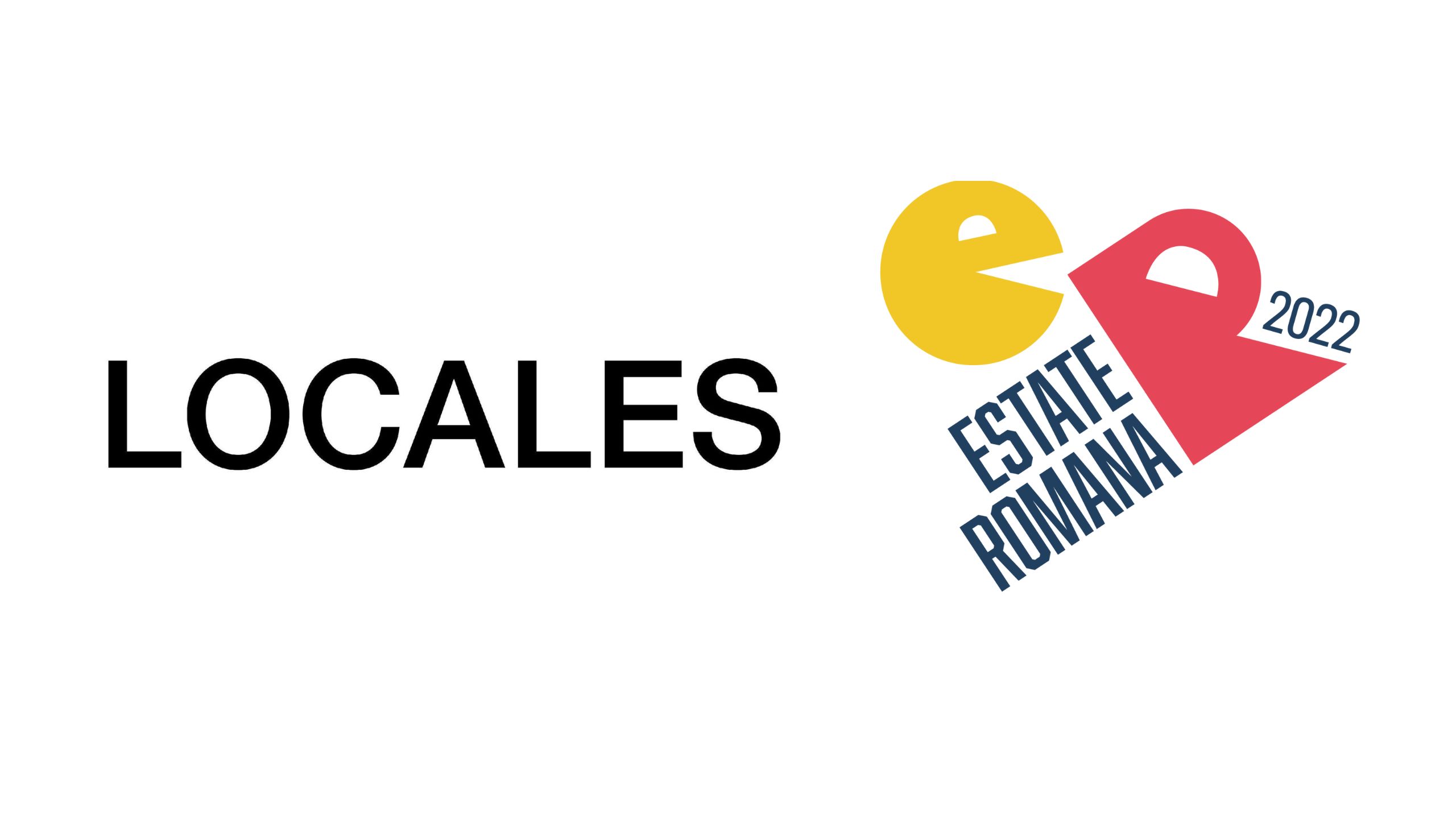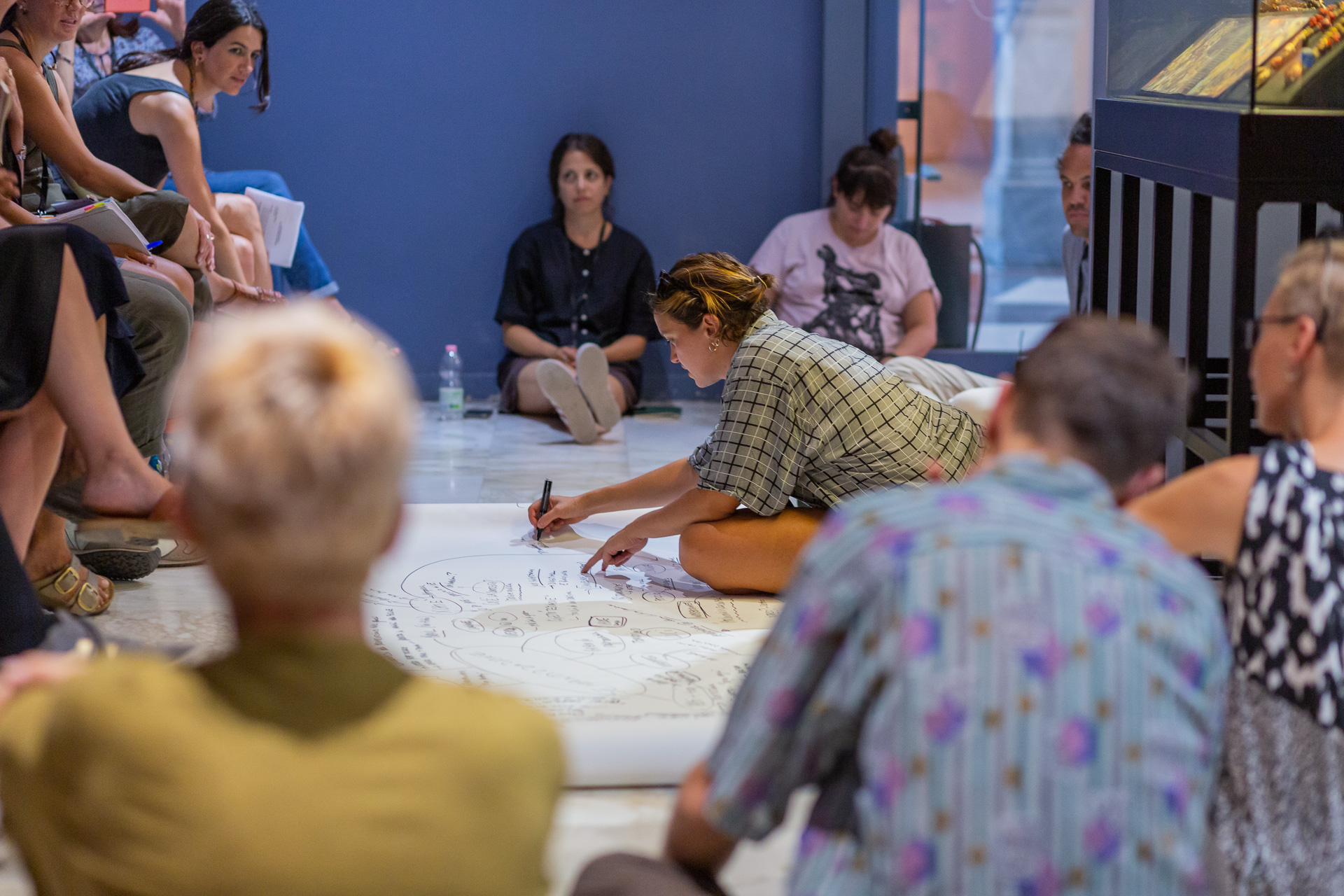 12-14 September 2022
A Collection in Turmoil. Workshop with Adelita Husni-Bey
Museo delle Civiltà, Piazza Guglielmo Marconi, 14, Rome

From September 7th to 28th, the second part of the Hidden Histories 2022 program took off with new projects by artists Dora Garcia and Adelita Husni-Bey. Curated by Sara Alberani and Marta Federici, with Valerio Del Baglivo, the project is designed from 2020 as a platform for site-specific research and artistic production and aims to critically re-discuss the city's historical-artistic legacy, adopting approaches and methods of decolonial thinking.
In this third edition, the focus remained on the public space, a dimension that in Rome is closely connected to the notions of heritage, preservation, restoration, and monumentality, along with its collections, archives and objects that still today are read and valued within a white, patriarchal and heteronormative canon.
The subtitle of Hidden Histories 2022 Trovare le parole / Finding the words takes its cue from an expression by feminist theorist Sara Ahmed in her book Living a Feminist Life (Duke University Press Books, 2016), and focuses on the linguistic dimension as a fundamental space in which to act and declare what is not seen and recognized within society as violent, racist, and sexist. As stated by Ahmed, finding words means naming the problems we are confronted with, "allowing something to acquire a social and physical density by gathering up what otherwise remain scattered experiences".
In the words of curators Sara Alberani and Marta Federici, "Hidden Histories 2022" acts through the practices and discourses of the artists involved, who open paths of reappropriation and re-signification of places in the city from which communities have been removed. In different ways and manners, the interventions detect and analyze processes of invisibilization and track down marginalized stories and voices in order to bring them out into the public space.


In the month of September, Hidden Histories also hosted Italian-Libyan artist Adelita Husni-Bey, who led the workshop A Collection in Turmoil from September 12 to 14, in the spaces of the Museo delle Civiltà, EUR.
Hidden Histories renews its collaboration with the Museo dell Civiltà for the third consecutive year and, through the activation of collective learning moments, reflects again on the histories and untold stories of this complex institution, which includes within it the collections already belonging to five different national museums.
A Collection in Turmoil specifically fits into the context of a new process of progressive and radical revision activated by the museum, which aims to question – and to try to rewrite – its history, its institutional ideology, and its research and pedagogical methodologies. Creating a space for collective research, study, discussion and dialogue, the workshop relates to this process of identity transition of the institution, and intends to activate a reflection on the history, objects, nomenclature systems and taxonomies of the collections of colonial provenance that today are part of the Museo delle Civiltà.
As stated by the artist, if «the transitive process is by its nature collective and not private, since it deals with thoughts and relationships born on shared grounds» and «if identity necessarily produces subaltern subjects, can we imagine a building able to collect public memories in a perpetual state of dis-identification?». Starting from this question, by listening to and integrating the experiences of re-semantization lived by people and entities in states of transition between genders (transgender), countries (migration), and former colonies (liberation), A Collection in Turmoil tried to articulate a logistics of change able to innovate methods and processes by which to rethink a transitional identity of the museum and its collections.
Preceding the workshop, on Sunday September 11 at 5 pm, the talk Transitive States, curated in collaboration with Short Theater Festival, was held at the Mattatoio di Roma. The talk put artists Adelita Husni-Bey and Renata Carvalho – the latter featured in the Short Theatre programme – in dialogue with editor, writer and trans-feminist activist Antonia Caruso. Moving from Carvalho's work on the travesti body to Husni-Bey's research on the collection of the former colonial museum, preserved in the Museo delle Civiltà of Rome, the discussion investigated the conservative nature of the act of naming and the impact of a colonized semantic universe, delving into the concepts of inheritance, identity and embodied experience and their relationship to each other. The idea of a "transitive" state, of continuous transformation, was explored in relation to both physical and institutional subjects. In addition to the three mentioned speakers, Hidden Histories 2022 curators Sara Alberani and Marta Federici, Museo delle Civiltà curator Matteo Lucchetti and trans-feminist activist from the Associazione Libellula Marcia Leite took part in the dialogue.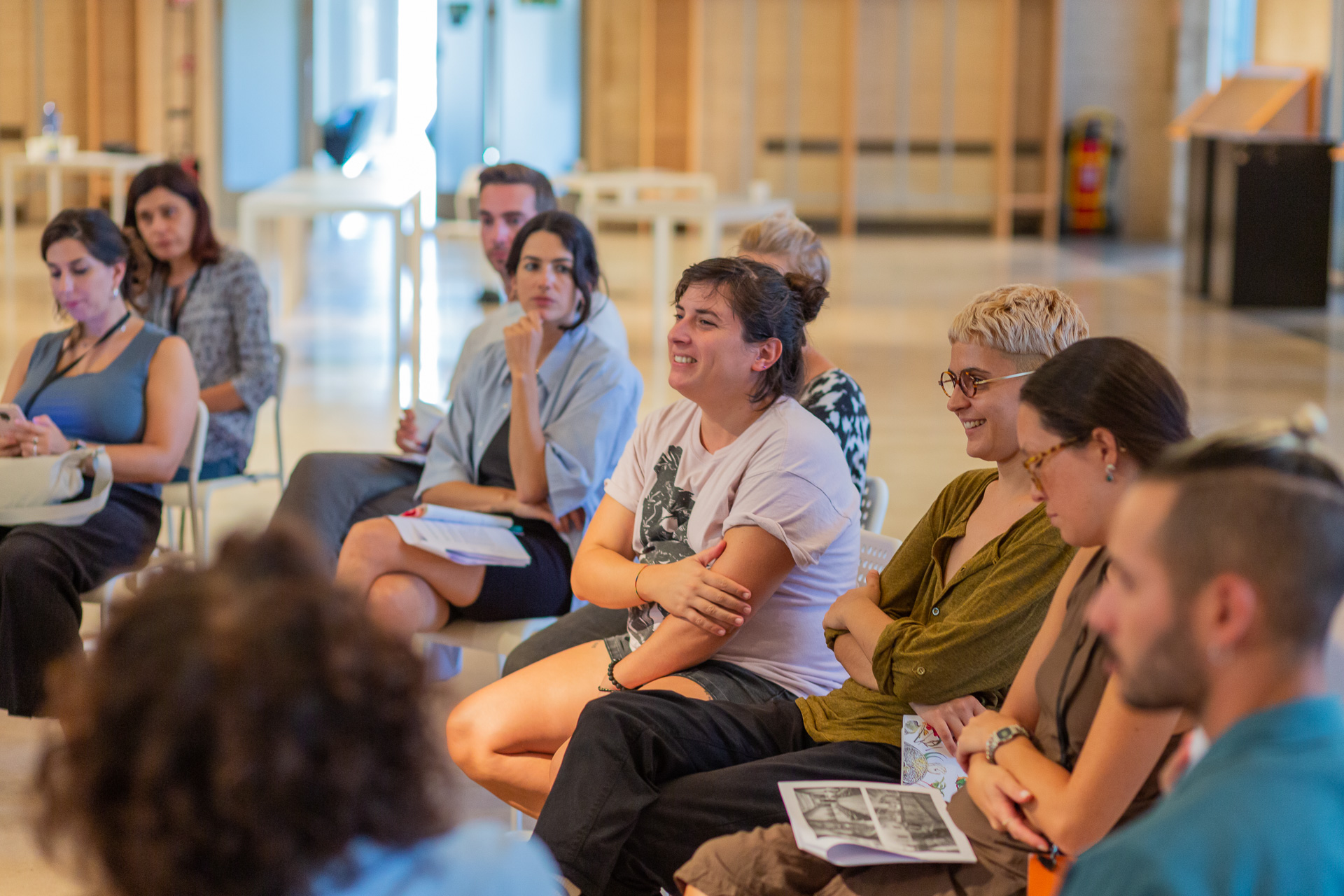 The workshop A Collection in Turmoil was co-produced by the Museo delle Civiltà as part of the European project TAKING CARE - Ethnographic and World Cultures Museums as Spaces of Care, co-funded by the Creative Europe programme of the European Union.
Partners and supporter of the three-year program of Hidden Histories: Accademia Tedesca Roma Villa Massimo, American Academy in Rome, Biblioteca Casanatense, BSR British School at Rome, Centro Cultural de España en Lima, Circolo Scandinavo, Fondazione Romaeuropa, IILA - Organizzazione Internazionale Latino-americana, MAXXI - Museo Nazionale delle arti del XXI secolo, Museo delle Civiltà, Taking Care - Ethnographic and World Cultures Museums as Spaces of Care, Museo Nazionale Romano, NABA, Nuova Accademia di Belle Arti, Real Academia de España en Roma, Villa Medici - Accademia di Francia a Roma, Università degli Studi Roma Tre.
________________________________________________________________________
Hidden Histories is a project curated by Sara Alberani, Marta Federici and Valerio Del Baglivo, all members of the LOCALES collective.
LOCALES is a curatorial platform founded in Rome that aims to inspire a reflection on the public sphere through artistic practices. Through a series of site-specific programs involving commissions of new artworks, explorations of public spaces, educational activities, and performances, LOCALES addresses the complexity of contemporary urgencies starting from the political and social history of symbolic places in the city and their local communities.

Adelita Husni-Bey is an artist and an expert in pedagogy, interested in topics ranging from anarcho-collectivism to theater, from jurisprudence to urban development studies. She is also involved in organizing workshops, producing publications, curating radio broadcasts, archives, and exhibitions, using non-competitive pedagogical models through the framework of contemporary art. She has participated in Work it Out! Aalborg Museum, 2021 (...). She is a Fellow at the Vera List Center for Art and Politics 2020-2022 where she developed These Conditions, 2022 at Brooklyn Army Terminal, New York, a hybrid space between exhibition venue, film set, and pedagogical space.
Hidden Histories is organized by Mariana Trench Associazione Culturale, promoted by Roma Capitale - Assessorato alla Cultura, is the winner of the Public Notice "Estate Romana 2020 - 2021 - 2022", curated by the Department of Cultural Activities and is realized in collaboration with SIAE.