Institutional and structural effects for the project partners (museums)
Our project is in the very fortunate position to consist of a diverse group of partners, 13 European Ethnographic and World Cultures Museums and Culture Lab. We have recently gotten together, virtually, and collected the institution's versatile experience of the last four months.
What follows are first impressions and insights on the effects the pandemic has had on the partner institutions individually and on the TAKING CARE project as a whole. This post will focus on how the museums have fared structurally, financially and the consequences it has had on the visitors and employees, as well as institutional planning and organizing.
We shall, however, be using this platform continuously to update, add, discuss and change these insights as we continue working on our project collectively, as well as highlight other impulses and discussions brought to the centre by the Covid-19 outbreak, such as the #BlackLivesMatter movement and it's respective impacts on the institutions themselves and the project as a whole….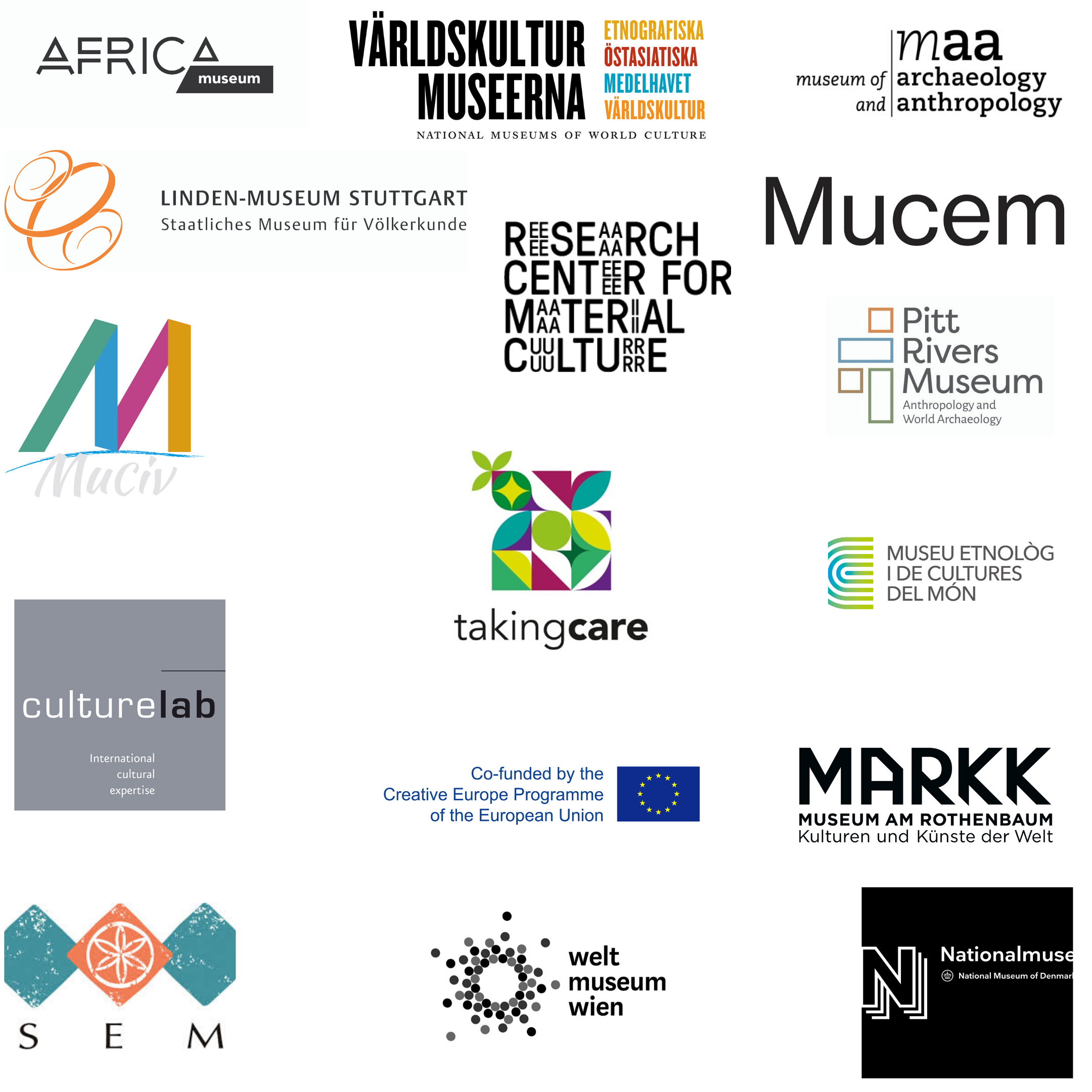 Europe, 22nd of July 2020
The Covid-19 pandemic reached Europe in February 2020 and by Mid-March the federal governments of the majority of the affected countries had started imposing several health and safety regulations and restrictions on the public life. In accordance with these the TAKING CARE partners (museums) closed their doors between the 11th and 18th of March, the majority around the 13th or 14th.
Currently, most of the partners, with the exception of the two British partners (Pitt Rivers Museum and The Museum of Archaeology and Anthropology, Cambridge) have reopened to the public. All must uphold varyingly strict protective regulations, such as masks, maximum visitor numbers, minimum safety distance, hygiene rules and some have restricted opening times (such as the Statens museer för världskultur, Sweden) and are obligated to register all visitors (such as the Linden-Museum, Stuttgart). In some cases, these rules have been amended slightly over time (MARKK). The Slovenski etnografski muzej was the first to reopen on the 5th of May, shortly after the German partners (Linden-Museum Stuttgart and the MARKK, Hamburg) as well as the Royal Museum of Central Africa (Tervuren, Belgium) followed suit. Thereafter, by mid-June, the other project partner museums in Denmark, Sweden, Spain, Italy and the Netherlands, as well as the MUCEM in Marseille, later that month, and the Weltmuseum Wien, by the beginning of July, were accessible to the public again. We are currently expecting the British partners to reopen by September of this year.
As soon as the institutions were closed to the public a majority of museum employees started to work remotely, as much as possible. It must be noted at this point that the institutions were not equally prepared for such a change and some partners had experienced difficulties accessing files and similar problems. The MUCEM, National Museum of Denmark, Linden-Museum Stuttgart and the Museo Preistorico Etnografico "Luigi Pigorini" in Rome switched to a mixed system of teleworking and shift work. The Weltmuseum Wien was a unique case, due to the Austrian 'Short Time Work' system, which started in April 2020. Salaries are being paid by the state, to ensure the prevention of large layoffs, but working time of employees was cut up to 0%. The majority of the museums employees, with the exception of those whose positions were deemed to be system relevant (for example security, communication, finance and payroll), were send on a three months shortened work scheme. In comparison, Oxford and Cambridge, who are both university museums, still maintain a mixed system with several employees on furlough, with full pay. In Sweden employees who could not work from home such as security staff, had been given other work tasks redistributed to them. In several partner museums, employees are to this day still partially teleworking, whereas a few have entirely returned to their offices (Austria, Spain).
While all institutions were closed, several had intensified their digital communication and education efforts. This was very dependent on the museum's previous set up and work capacity, considering furlough, teleworking and short term working schemes.
Virtual tours through museums (such as MUCEM, Linden-Museum Stuttgart), online collections (for example the Weltmuseum Wien), podcasts (Pitt Rivers Museum, MARKK) were offered via the respective social media channels. Other institutions used the time to start digital collections with their visitors (for example the Slovene Ethnographic Museum), offered online learning programs (Italy, Sweden), screened events and films (The Royal Museum of Central Africa (Tervuren, Belgium), Museu Etnològic i de Cultures del Món) or initiated research programs (Denmark, Netherlands) on the impact of Covid-19. The time was also used to educate staff (Pitt Rivers Museum) with online tutorials.

The opening of new programs, exhibits and in MUCEM's case the museum itself was broadcast online, which proved to be very successful. The museum had also provided a special online tutorial in preparation of visitors returning, in order to explain guidelines and security measures as well as very warmly inviting the population of Marseille back. This has led to 1000 visitors on the first weekend back. Other partners such as the Museu Etnològic i de Cultures del Món had informed us that there is still a lot of insecurity and fear, so people have returned back very cautiously. In Germany the obligation to register as a visitor have led to a decrease and as the Italian partner rely largely on schools and summer programs, which have had to be reduced, income and numbers have gone down dramatically.

The trend is slowly increasing but in general, all partners have experienced a reduction. Open-air activities, such as the summer museum night in Slovenia and screenings in Barcelona were a successful tool to invite audiences back, in a relatively safe surrounding.
Considering that, the partner institutions are organized as either private, state or under the auspice of private universities and are differently dependant on state funding and subsidies or income from (tourist or local) visitors, they are facing varying degrees of financial difficulties due to the Covid-19 pandemic. In the case of the Weltmuseum Wien, they were so severe that additional state funding had to be requested to ensure the upkeep for the rest of the year. The MUCEM on the other hand, is relying less on visitor income and costs more open than closed, as well as having parts of the on ground staff, such as security, on temporary contracts. The strong local audience base adds to the museums relatively unscathed financial situation.
It however remains to be seen, what the aftermath will bring, as state funding may be cut for cultural institutions in many European countries.
This will lead to further postponement and cancellation of events, such as exhibition openings, educational events and many more, which many partners have had to do in the previous four months. The Museo Preistorico Etnografico "Luigi Pigorini" for example has planned three openings this fall, which it hopes will not have to be cancelled or reorganized again.
In relation to our TAKING CARE project, the planned Kick-Off Conference in Oxford ('Matters of Care') has been rescheduled for next year in March (and combined with a planned workshop format) and the 'Caring Matters' event organized by the Research Center for Material Culture (RCMC) at the Nationaal Museum van Wereldculturen in September will be a solely digital event. Various project activities planned for this spring and summer such as the Creative Study Lab in Marseille, the experimental exhibition in Tervuren, as well as several artist residencies will have to be postponed until next year. Due to travel restrictions, several other events in the fall and winter will be affected, as artists and artefacts may not be allowed to enter. Those partners whose events and activities are taking place in the second part of the project have thus far not been impinged.

All in all we can summarize that all partner museums of the TAKING CARE have been severally altered by the recent pandemic and how strongly so remains to be seen. We should, however, use this opportunity to emphasize again that the ongoing crisis has brought many relevant issues to the forefront of our collective attention and what is and can be done about this shall remain in our project's focus.
To be continued….